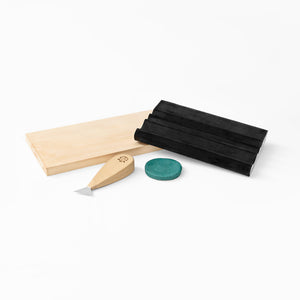 Thank you for your attention to our brand.


As an Ukrainian manufacturer of high-quality tools we would like to keep our business and provide financial support for military needs in our country ( 20% from each order), so we keep performing orders in usual terms and conditions. Our location near Polish border allows it.

Please contact us via messangers to complete your order and you will become a part of fight for Ukrainian liberty 💙💛
Whatsapp, Telegram, Viber +380506820787
This set is perfect for beginners who want to do wood carving. Namely the creation of geometric patterns.

The set consists of:
1. Profile leather strop and polishing paste - after 10-15 cuts, it is necessary to maintain sharpness with the help of a strop and paste. Paste weight - 25g. Strop size - 200*120 mm.
2. Wood blank - made of lime wood. The board is dried to a moisture of 7-10% which makes it comfortable in work. Allows you to improve your skills in carving and understand the principle of operation of the tool. Size: 300*120 mm.
3. Swallowtail knife. This knife has a triangle-shaped blade with 30 mm cutting blade. With this woodcarving tools it is possible to make various cuts, to cut triangles popular in geometric carving, to cut a background, to make cuts, also with the help of this knife it is possible to form triangular recesses on the edge of a wooden product.

Made in the STRYI company of carbon steel U8(W1-7). The tool is made on the sketch of the famous Ukrainian carver Adolf Yurev. The handles are made of walnut wood and covered with linseed oil. The company provides a wide range of services and has an individual approach to each customer.