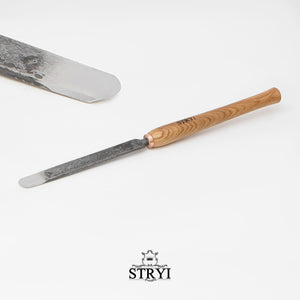 Thank you for your attention to our brand.


As an Ukrainian manufacturer of high-quality tools we would like to keep our business and provide financial support for military needs in our country ( 20% from each order), so we keep performing orders in usual terms and conditions. Our location near Polish border allows it.

Please contact us via messangers to complete your order and you will become a part of fight for Ukrainian liberty 💙💛
Whatsapp, Telegram, Viber +380506820787
Product Name:  Round Scraper  Standart (Unpolished)
Type: Wood Turning Tool
Description: The  Round Scraper is a woodturning tool known for its versatility in various turning applications. This tool is designed to handle both general turning projects and fine finishing cuts, making it a valuable addition to a woodturner's toolkit.
Features:
Sturdy Construction: The heavy-duty design suggests that the scraper is built to withstand the demands of more challenging turning tasks, providing durability and stability during use.
Round Profile: The round profile of the scraper allows for a range of cuts and finishing techniques. It can be used to shape contours, create curves, and achieve smooth finishes.
Intended Uses:
General Turning: The scraper is suitable for a wide range of turning projects, including spindle work and other applications where material needs to be removed efficiently.
Fine Finishing Cuts: The tool's design enables woodturners to achieve very fine finishing cuts, contributing to the overall quality and precision of the turned piece.
Dimensions:
5mm metal thickness
G15660 steel grade
sharpened and ready to use
oak wood handle finished with linseed oil
handle size 25cm (9,85")
total tool length 45cm (17,7")
tested by wood carvers
Every chisel passed through the technical control department before it is shipped. Quality control test sharpening quality, hardening and hardness of the metal, which ensure long lasting and comfortable using of the tool in carving. Tools are carefully packed while delivering. Cutting edges are protected from the damages. Company guarantee the declared quality of the tools and proper condition while receiving.
Manufacturer STRYI successfully works already 10 years. During this time company has improved its production capacity as much as possible increasing quality and technical specifications. Manufacturer is caring about the Customer and is providing full range of services for wood carver: 24/7 consultation, wide range of instrument, goods for tool's handling, wood blanks and online / offline carving education.