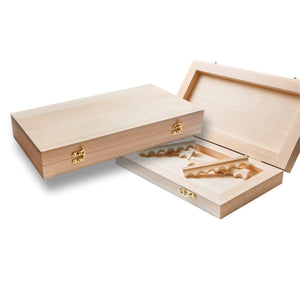 Thank you for your attention to our brand.
Due to the Ukrainian last events unfortunately on this site completing payment for chosen item is not available temporarily.

As an Ukrainian manufacturer of high-quality tools we would like to keep our business and provide financial support for military needs in our country ( 20% from each order), so we keep performing orders in usual terms and conditions. Our location near Polish border allows it.

Please contact us via messangers to complete your order and you will become a part of fight for Ukrainian liberty 💙💛
Whatsapp, Telegram, Viber +380506820787b
Basswood blank is carefully dried to achieve an optimal humidity level of 8-10%. This ensures that the wood is stable, allowing you to work on it without worrying about warping or cracking. With its low moisture content, this blank offers excellent carving properties and allows for precise detailing.
The basswood used in our blanks is known for its smooth and even grain, making it a popular choice among woodcarvers. Its light color provides a beautiful canvas for your artistic endeavors, allowing the natural wood grain to shine through. Additionally, basswood is known for its relatively soft texture, making it easier to carve and shape.

Whether you are an experienced woodcarver or a beginner looking to explore the art of carving, our basswood blank is a fantastic choice. Its high-quality construction and carefully dried nature ensure that you have a reliable and versatile material for your Backgammon and Chess projects.

The box is completed with parts for gouges for chips and fittings.

Chips and dise can be provided additionally for your order.

Please kindly let us know.
Offered sizes:
Why STRYI?
- Full time qualified consultation
- Tool comes sharpened and ready to use right from the package, carefully packed while delivering, cutting edges are protected from the damages.
- Fast and prompt shipping to any country
- Associated goods for woodcarving
- Feedback on different web sites and forums.
- VIP offers – producing tools according to client's drawing
- guaranty of the declared quality of the tools and proper condition while receiving.
Delivery usually takes about 8 - 45 days. Please note that delivery time may vary depending on your location and customs clearance, so we can not guarantee the exact arrival time.
Average delivery time:
U.S. - 12-18 days
U.K. - 14-30 days
Canada – 18-30 days
Australia and New Zealand - 20-40 days
France and Germany – 10-20 days
Italy and Russia – 20-35 days
Spain, Belgium, The Netherlands – 16-26 days
Norway, Sweden, Denmark, Switzerland – 12-24 days.
India, South Korea, Singapore, Hong-Kong, China – 18-30 days
Egypt, South Africa – 22-45 days.
Other countries - 20-45 days
Return Policy
If you are not satisfied with your item for any reason, please:
1. Email us to get the return mailing address;
2. Write down 'RETURN' clearly on the envelop and return to the address provided;
3. You will be contacted about the refund or replacement once the returned item is received.
Please note that postage is NOT refundable.
Feedback
We are striving to receive Positive feedbacks and 100% satisfaction from our client.
Please contact us immediately BEFORE you give neutral or negative feedback so that we can resolve the problems which arose due to certain circumstances.