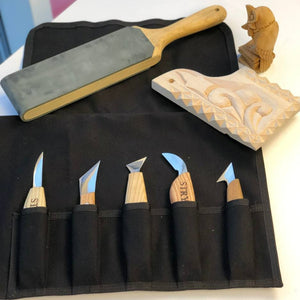 A set of knives for carving can be used to perform chip carving, to create a small sculpture. 
High-quality carbon steel W1-7;

2mm metal thickness;
60-62 HRC (Rockwell);
oak wood handle finished with linseed oil;
for both soft and hard wood;
made in Europe, Ukraine;
directly from manufacturer without

 

intermediaries.
Set contains: 
5 knives - art.183040,

 

art.

183015,

 

art.

184535,

 

art.

187030,

 

art.

185812;
a tarpauline roll-case;
a double-sided leather strop
It is a perfect gift for artist, art men, craft men, carver, woodworker, and othere creative people.

As the set is completed of the TOP functional knives with extra sharpness for soft and hardwood.
✅Chip carving
✅ Whittling
✅ Detailing
✅ Relief carving
Every chisel passed through the technical control department before it is shipped. Quality control test sharpening quality, hardening and hardness of the metal, which ensure long lasting and comfortable using of the tool in carving. Tools are carefully packed while delivering. Cutting edges are protected from the damages. Company guarantee the declared quality of the tools and proper condition while receiving.